Zynga Poker
December 2, 2022
Casino
The description of Zynga Poker
The greatest thing about online card games is that you can comfortably play without feeling guilty or regretting real money loss.
Is poker your favorite hobby like mine? I have some game reviews and guides to share in today's article after our experience with Zynga Poker.
If you're also into other online boardgame types, download the MONOPOLY via this link and try to take away every real estate around.
Zynga Poker is a mobile version of Facebook's number one Texas Hold'em poker game compatible with Android devices' touchscreen controls. The publisher Zynga first released it in July 2007 as a multiplayer game for the social media website Facebook.
Popularity
Before Zynga Poker was launched on mobile platforms, it has already been a dominant force in the gaming website industry.
In 2011, more than 38 million people played Zynga Poker, making it the largest poker site in the world. This number rose to around 350 million by 2014, with millions signing in every day. In 2018, Zynga Poker took up a 6.1% market share in social casino games, following an intensified competition in the market.
The mobile app itself gains over 50 million downloads on Play Store and available in 18 languages.
Gameplay
Zynga Poker simulates Texas Hold 'em poker in a social casino environment. After login, users can enter a lobby and choose any table to play or join their friends for a game at a certain table. Rules are the same as real-life poker.
In addition to casual tables, players can compete in tournaments, weekly fast cash events, or VIP Program. I will give you a closer examination of these varieties later.
You will get free chips for the first time playing the game. From that moment, it will be up to your luck and skills to win more chips. You can also buy chips with your own money.
There is also a leaderboard letting players know their chip ranks and how they perform compared to others. Besides gambling, you can enjoy jackpots weekly and send or receive gifts.
Good stuff
Zynga Poker becomes one of the best casino games globally for more than just one reason. This section will show you some prominent features that make this game a must-have app on my Android phone.
Intuitive Interface
You will fall in love with Zynga Poker design. Whether you're in the lobby or playing on a table, Zynga has done its best to improve how the cards and background look.
The graphics appeal visually and enable easy navigation from the Start Menu to a game. The cards are big and clear enough to see. All of the animations show up seamlessly. They are smooth when joining a table for new hands, making your waiting times shorter and more comfortable.
The sound system is above average, nothing amazing but nothing bad either. You will hear all kinds of sound in a real casino, including clapping sound whenever someone wins, or alert sounds when it is your turn. The background music is fine, too. It isn't annoying or booming but still not so boring.
Poker Variety
Zynga Poker only simulates one form of poker: the Texas Hold'em. You might think of it as a drawback, but for me, it's not. Players worldwide tend to prefer classic poker than other types, and, in fact, Texas Hold'em is the most popular one.
Besides, this game offers one poker type that doesn't mean it cannot provide diversity. There are tons of exciting "game modes" waiting for you to discover.
The Tournaments
The Sit-N-Go, as its name indicate, is a casual game. You can win more chips and get spectacular trophies in this tournament. Not only you enjoy your achievement, but also everyone will see it (on your avatar).
Also, Zynga Poker is suitable for all playing types and skill levels. When you only have a short break, the quick tournament with tables of five is ideal. It's faster, it shortens waiting times. When you want to spend a whole day improving your rank, go for traditional nine-person tables, or set up a private table with people in your friend list.
Like the traditional rule, only people who come in first and second place receive payouts in Sit-N-Go. In full ring tables, there are 3 players win chips.
Besides, the game allows you to auto rebuy back into hands. You can also sit up and down to top off your stack.
VIP Program
Suppose you want to compete with the top-tier players. In that case, you can take your poker experience on another level with the VIP Program. Joining the VIP will provide you with in-game benefits such as exclusive chip packages and special poker game modes.
Leagues
The leagues are for real competitors. If it is a rivalry, millions of players worldwide will compete to find out who wins the most chips. The winner will hold the Texas Holdem Poker Champion.
You can compete on the leaderboard weekly, aim to the highest position. Once a week, you will receive tickets in your Rewards Center as rewards, depending on your rank. Tickets are for redeeming great prizes. I find this mode the most competitive in Zynga Poker.
Regular Activities
In addition to the above major varieties, you can explore the game with many interesting events and additional daily activities.
The Fast Cash Events and new Jackpots come out every week. The Fast Cash event also allows you to compete with players worldwide but has its own rewards (and they're huge!). If you want to try your luck, play hands in Jackpot for a chance to win big prizes. The higher the stakes are, the bigger payouts you may receive.
Besides, you have to fulfill your tasks every day. If you're going to complete all the daily challenges, the game will give you bonus missions. There are also weekly challenges.
Furthermore, the developers added 5 items for players to collect, each gives out free chips. These items are watches – luxury accessories born to be on the gamblers' wrists. You accumulate these watches by playing poker and winning chips in collections.
Easy Chip Earning
Zynga welcomes you with a bonus of 60,000 free chips just in your first signing up. Just to let you know, other casino games only give you a 10,000 bonus or so.
Zynga Poker also offers higher stakes, which means you can win more time after time. The multiple sit-and-go buy-ins will increase the chips you can earn for every tournament.
Furthermore, the daily bonus feature gives you a chance to get up to $45,000,000 in-game money. You can use it to buy more chips or other items.
Play Anywhere With Anyone
Considering many users, Zynga Poker has built a huge in-game poker community, preventing shortage in players in each table. You can make new friends online and challenge them for more fun. You can communicate with them or even your rivals through an excellent live chat system — such a perfect feature for multiplayer, especially with those who love the leagues.
You can access the game using 3G, 4G, or WiFi connection. Your hand will never be interrupted under any circumstances.
Moreover, Zynga Poker is available in all sites and operating systems: Facebook, Google, Windows, MySpace, Tagged, Windows Phone, Android, and Ios. Suppose you've already signed up on another platform. In that case, log in to the Zynga Poker with your social media account and continue your poker dream. You only need one account for all desktops and mobile devices!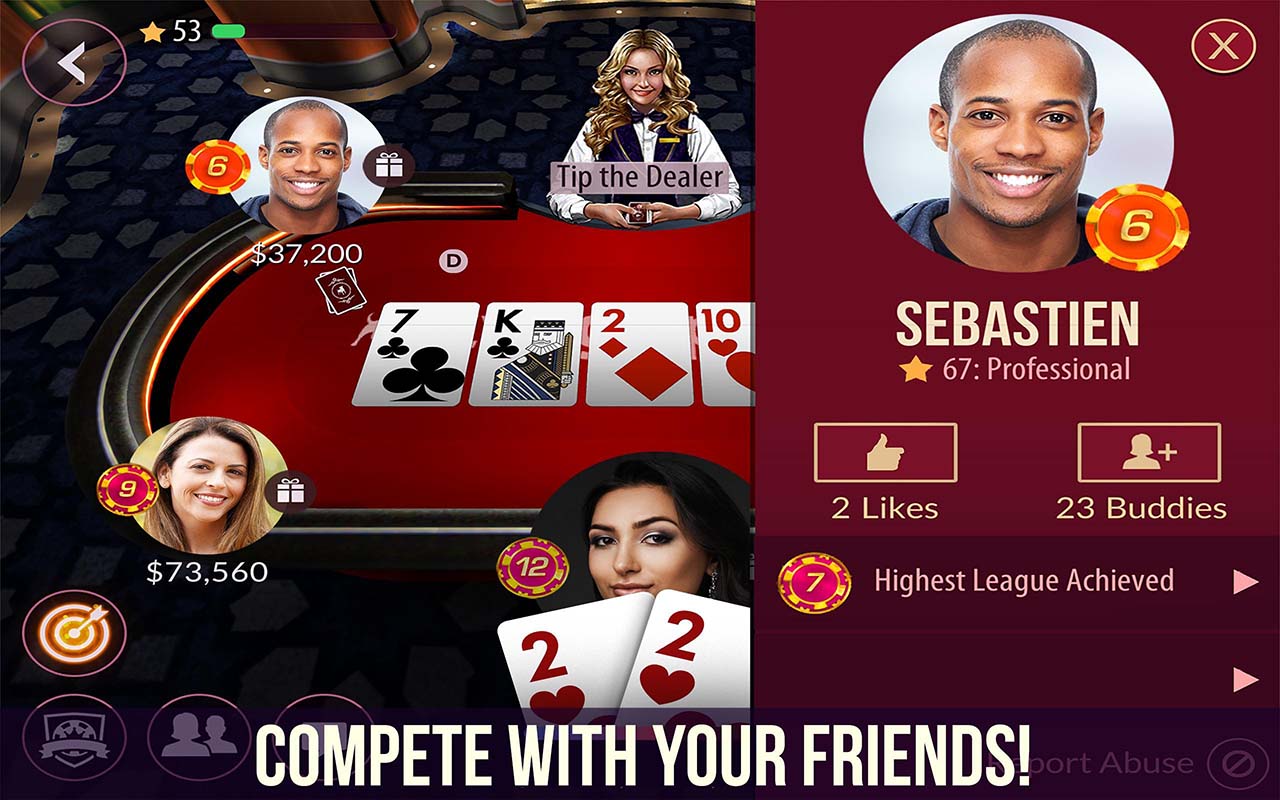 Bad stuff
Unfortunately, Zynga Poker does have some downsides to point out. It is somehow lagged during peak hours. There are also some connectivity issues making players disconnected while playing. These situations are rare, but they still happen.
Besides, the game sends tons of notifications occasionally. The contents are about free chips updates, some random things in play, etc. Everything! Most users turn on app notifications for quick updates or alerts, and pop-ups are useful when starting the game. But this game's announcements are a bit too much. I honestly feel annoyed and have turned it off.
Furthermore, all decks and processes during playing are fixed and non-customizable. I wish I had a four-color deck option. This is not really a minus but more like a feature that I hope to experience shortly.
FAQs
Q: Is Zynga Poker legal in my country?
A: All legit play money games/applications are, of course, legal for any player around the world.
Q: Is card distribution in Zynga Poker fair?
A: This is the most asked question for any real money game. Online casino developers use random number generators (also known as RNG) to distribute cards. These generators have several ways to approach. Some are based on random numbers, some add external real-life variables to the algorithm such as date, time, etc.
Still, there were many fraud scandals with real-money poker games, mainly individual intent or poker bots related. I realized that the RNGs did nothing wrong in these cases. Here's why:
Some companies have bad employees, and so do game publishers. These employees, along with someone associated, take data of other players' card distributions to win. If caught, the company will compensate the player for any fraud in this type.
Another widespread fraud is using bots. But don't worry, since Zynga Poker is a great app, the security is pretty advanced. It's hard to fool seasoned developers, right?
Moreover, Zynga is a reliable publisher with a longing history in the gaming industry. Like many other game operators, Zynga dares not to do such shady kinds of stuff. It will lose more, especially the reputation, if someone finds out it is cheating on the users.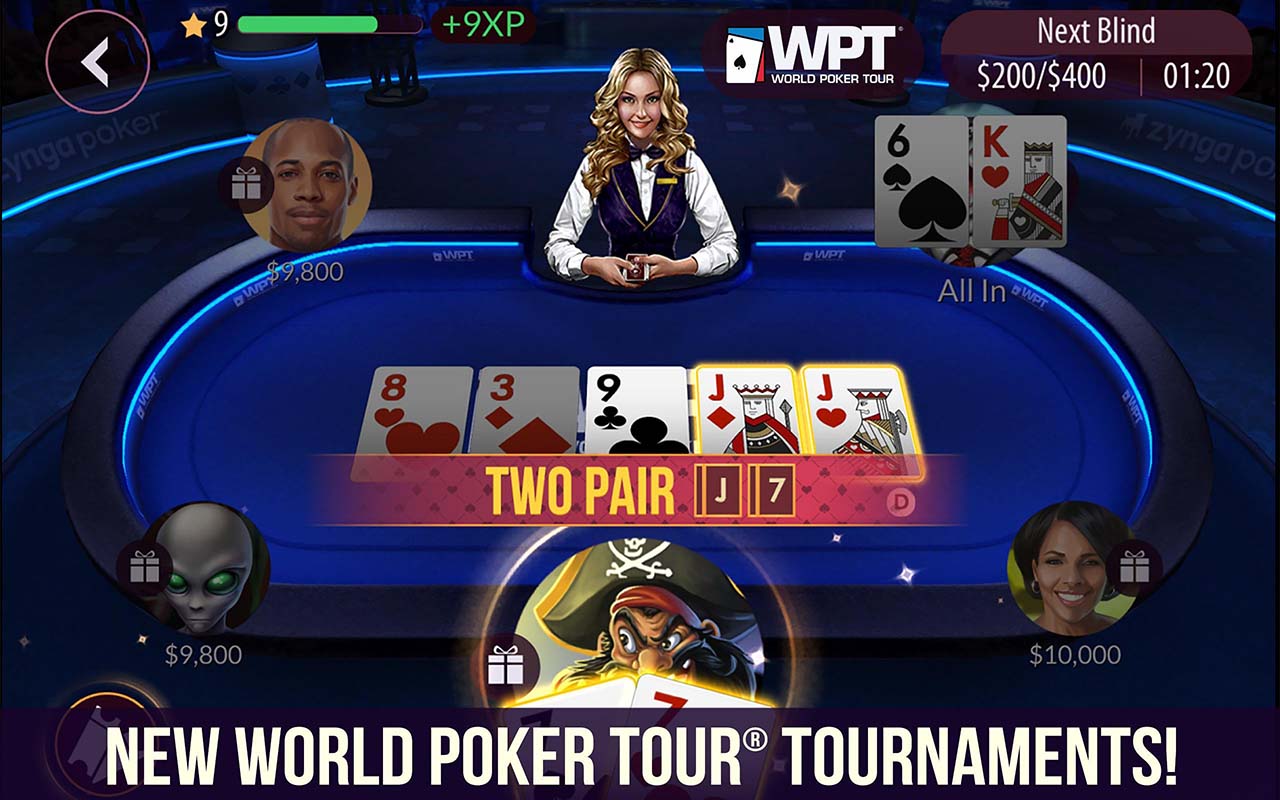 Q: How can I purchase chips in Zynga Poker?
A: You can buy play chips from the app's in-game store, through Facebook and Google+ payment services (login required), or via third-party websites. Besides, Zynga Poker is a modification; therefore, you will get more chips without paying anything.
Q: Will the "Tipping the dealer" feature gives me better cards?
A: Well, the answer is no. If you tip a dealer in real life, he/she will act more pleasant and gently towards you because you help increase his/her income. There's a high chance he/she will do something in your favor.
But Zynga Poker is just a mobile app, the dealer is actually software, and you cannot win real money. You might think no one will throw their chips out of the window for nothing.
However, if there was no tangible benefit, why did the developers add this feature to the game? In fact, many users love this feature, including me. Tipping the in-game dealer increases the game's fiction. In other words, it makes the game realistic, it makes sense. Besides, you will have many chips by using Zynga Poker Apk, so a little amount of tip doesn't count.
Tips To Win Zynga Poker
Winning a hand in the world's most-played casino game has never been easy, so I'll give you some advice. Please keep in mind that this is purely my personal experience. It might be right or wrong in your situation.
Try not to rush or bluff; other players will call you one way or another. Patience is an important quality of the winner. There's a higher percentage of winning without bluffing.
You should take advantage of your daily spins to gain more rewards.
Choose tables with full 9 players (including yourself) for tighter play.
If the existing table doesn't have enough fish, move out, and select a new one.
When you have a strong hand, don't hesitate to bet big. People will call you, and you win big.
Buy in given stakes at maximum and decrease to lower ones when needed.
Keep an eye on your cashflow. Don't have more than 20% of your total properties on your table. Sooner or later, you will go bust in one hand, and nobody wants to lose all of their money at once.
The rake in Sit N Go is pretty high; make sure you know it well before trying it.
Final Words
Now that you've had my Zynga Poker APK review. Hopefully, you have a clear idea of why it is the world's leading casino game. It looks nice, easy to play, and can adapt to any player's skill level. It's going to be a great choice whether you want to kill some time or entertain in an all-night-long poker tournament.
Someone once said, "Pokers is all about playing the man." I'm sure Zynga Poker will make your poker experience become more than just a simple mobile game.